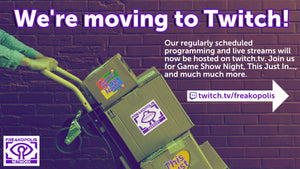 Making the Move to twitch.tv
When creating Freakopolis we knew video reviews, interviews, box openings and updates were key to the goals we had set out to accomplish. We created a comic shop, The Freakopolis Geekery, to compliment what we were calling the Freakopolis Network, this Geekery was built in our tiny hometown of Whitehall, NY. While this meant for a short commute we also realized we would have to work incredibly hard to find new customers, and convert our small town neighbors into gamers and comic readers. We decided to reach beyond window signage and business cards into the digital realm of video media production.

We've spent countless hours creating a cartoon, shot 50 episodes of a weekly pop-culture show called The Good, The Bad, and The Freaky, and live streamed to our Facebook twice a week for months now. During that time the Network took a back seat to the needs of the Geekery, but as we streamed to a couple of dozen friends of the Geekery we realized our love of video and going "live" was only growing.
We've decided to leave Facebook live for a more robust platform in twitch.tv. This should  allow us to more carefully curate shows like Game Show Night, reach a more targeted audience and broaden the horizons of the Network and the Geekery alike. We hope you join us on our continuing journey into streaming and consider tuning in on our journey to twitch.tv Affiliate. You can help us along by following us for notifications on when we go live on and stopping by the stream to say hello!
Our regularly scheduled shows, "This Just In..." (4 PM EST Thursdays) and Game Show Night (6:30 PM EST Saturdays) will now be hosted on Freakopolis' Twitch channel. We'll also be updating our stream schedule soon to reflect the new shows being broadcast there.

You can keep up with Freakopolis here:
---