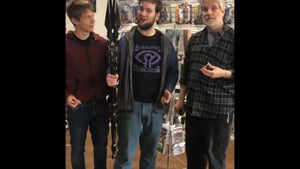 We found Rasputin's Valkyrie! [Destiny 2]
Yesterday we went on an incredible adventure. Due to the hard work of a great many communities online the location to hidden treasures from our favorite video game were revealed, and they just so happened to be very close to Freakopolis!
We've always been huge fans of Destiny, keeping the same characters from the original beta, all the way through the latest DLC. Ian keeps close watch of the online communities, and had mentioned a game wide secret being solved just a few days ago. Well, through some cryptography and the use of many complex cyphers, a secret message with awesome lore implications, and our set of coordinates, was brought to light!
Jumping out of bed very early in the morning, we took the trek to Sleeping Beauty trail, searched far and wide, and found something absolutely incredible. Watch the video below to catch the journey!
---