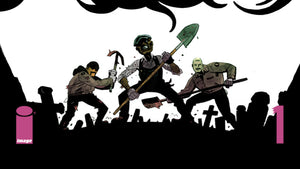 Freakopolis Reviews The Gravedigger's Union #1
Are you a fan of Deadly Class, zombies or large construction equipment being used to slay the supernatural?! Then we've got a brand new book for you! TJ gives his review of The Gravedigger's Union #1 right here.
In the world of "The Grave Digger's Union" regular everyday people are protected from supernatural horrors by the pick axe, shovel, and backhoe wielding titular blue collar workers. Times are a changin' though and we find the world under an ever increasing presence of zombies, ghosts, and ghouls. Having a hard time keeping up the union boys decide to parley with a witch only to be met with bureaucratic red tape showing us the cracks beginning to form in their organization.
Marrying two of independent comic's most exciting creators, Wes Craig of Deadly Class pencils, and Toby Cypress, currently on Image's Retcon, creates a book with more style than a three piece suit. Wes Craig uses the first issue to introduce to us a cast of characters buried in bodies and Jameson and a world that wears its dark comedic horror on it's sleeve. Meanwhile Toby Cypress joins the book after Wes Craig's 5 page prologue with pencils that boggle the mind.
With a series debut this strong we can't wait to see it's supernatural apocalypse play out.
You can keep up to date with both the Freakopolis Network and Geekery at:
---